Avoiding the Fright of Food Allergies on Halloween Night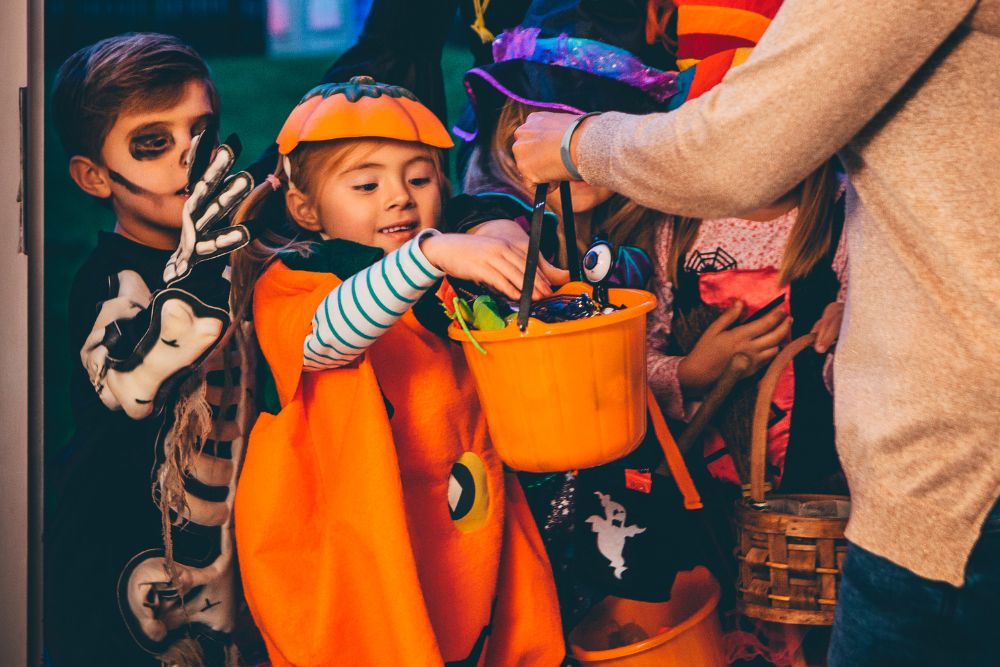 Halloween is creeping up on us faster than a sneaky vampire, and with it comes the excitement of costumes, spooky stories, and more sugar than you can shake a broomstick at. But wait, not so fast! For some of our mini-monsters and grown-up ghouls, traditional treats can be a real nightmare due to food allergies. But fear not, fright-seekers! We've got some witchin' tips to ensure an allergy-friendly and spooktacular Halloween for everyone.
Ever seen a teal pumpkin on someone's porch and wondered if they're channeling their inner Ariel? It's actually a sign that this house offers non-food treats, making it a safe stop for kiddos with allergies! Participate in this initiative by placing a teal pumpkin on your doorstep and offering things like stickers, crayons, or glow sticks. You can also add your home to the Teal Pumpkin Project map to be sure local trick-or-treaters know where to go. It's an easy way to be a Halloween hero!
2. Educate your Little Goblin

If your child has food allergies, it's important to have a chat before trick-or-treating. Discuss which candies are off-limits and remind them not to eat anything until they get home. (Plus, isn't inspecting the candy haul half the fun?)
3. Offer a Trade-In Program
Some parents find success with a "candy trade-in" system. After trick-or-treating, kiddos can swap their allergy-triggering candies for a toy, book, or other treat. Basically, it's like trading in a haunted house for a beachfront property.
4. Be Label-Detectives
Parents, it's time to channel your inner Sherlock Holmes. Always double-check labels, even if you've purchased the product before. Manufacturers can change their ingredients or processing methods, and many mini-sized versions are made in different (read: potentially contaminated) factories than their larger counterparts. No one wants to deal with unexpected "boo"-boos.
5. Mix it Up with Non-Food Fun
Who says Halloween is all about candy? (Okay, a lot of people… but bear with us) Host a costume party, complete with a runway show, so little werewolves and witches can flaunt their spooky styles. Or gather 'round for a scary movie marathon – just remember to keep it age-appropriate. "Nightmare Before Christmas" anyone?
6. Communicate with Fellow Ghost Hosts

If your kid is attending a Halloween party, chat with the host in advance about your child's allergies. Offer to bring some safe snacks or desserts. And hey, who can say no to extra goodies?
7. Allergy-Friendly Goodie Bags

For those handing out treats and aiming for the "House of the Year" title, consider having separate bowls: one with candy and one with allergy-friendly options or non-food treats. And if you really want to be the talk of the ghost town, add some variety with mini-comic books, whistles, or tiny puzzles!
Having a child with food allergies – or catering to little visitors with them – doesn't mean you can't have a fa-boo-lous Halloween! With a sprinkle of creativity and a pinch of awareness, you can ensure everyone has a safe and spooky time. And if you need somewhere to flaunt your haunt, head to downtown Fairhope on October 28th at 10 a.m. for some fun community trick-or-treating. Happy Haunting!
And remember – if your night of fright turns into a full-blown accident, Urgent Care of Fairhope is here to heal your minor injuries and illnesses with our brand of medical magic. Just stop by our walk-in clinic anytime during operating hours for care so good, it's scary!