Eastern Shore Parks that are Perfect for National Outdoors Month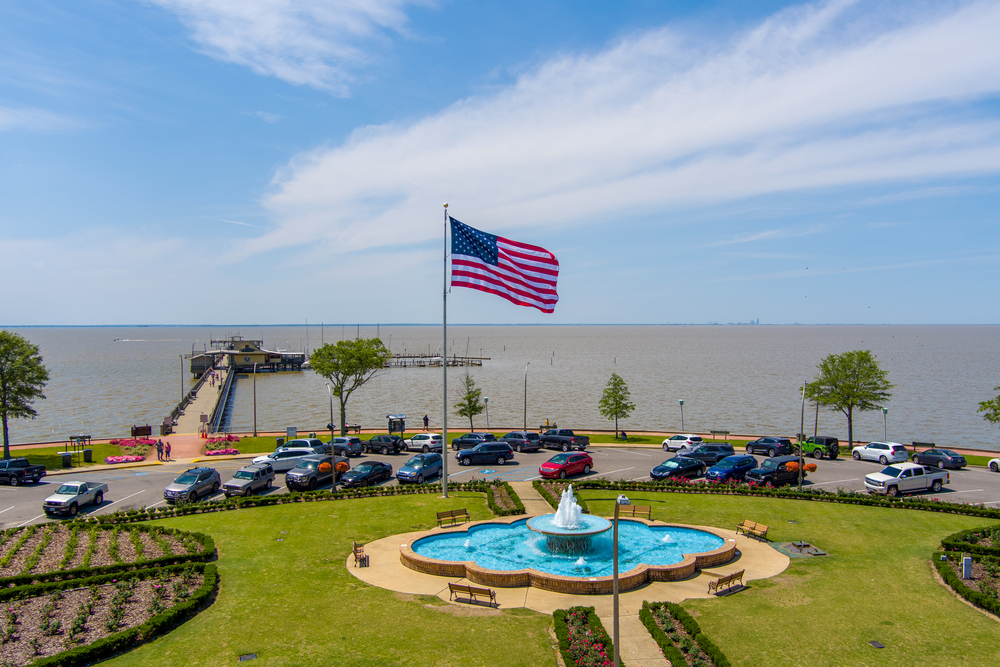 Whoever dubbed it "the great outdoors" must have lived along the Eastern Shore. Our area is home to some of the most gorgeous landscapes on the Gulf Coast, from bayfront sunsets and beachline views to tall pine forests and lush wetland swamps. And with public parks and nature preserves offering a closer look at our coastal scenes, locals and guests can explore all that natural beauty with comfort and ease.
June is National Outdoors Month, which means there's no better time to lace up your shoes, grab your picnic basket, and get outside for some nature-fueled fun. But first, take a peek at our favorite parks and activities to help you get inspired for a great outdoor adventure.
Fishing and Fun at Fairhope Municipal Pier and Park (Fairhope)
Perhaps our city's most famous landmark, Fairhope Municipal Pier and Park is a breathtaking stretch of bayfront scenery, walking trails, sandy beaches and high-rise bluffs. Walk out on the Fairhope Pier to cast a line for the day's fresh catch and take in scenic views of Mobile Bay. The park also features walking and biking trails, a large stretch of public beach, picnic areas, a duck pond, and playground equipment.
Strolling and Sunsets at Bayfront Park (Daphne)
Situated on the shoreline of Mobile Bay in Daphne, Bayfront Park is a local favorite for its serene atmosphere and breathtaking views. Take a leisurely stroll along the park's oak-lined walking paths or gaze over a stunning bay sunset from the saltwater pier. Bayfront Park also offers kayak/canoe access and a covered pavilion with picnic tables and seating.
This lovely nature preserve features a long boardwalk system that winds through lush marshland and old marine forests on the edge of Mobile Bay. Explore the varied paths to read educational signage and keep your eyes peeled for eagles, osprey, and blue herons.
The young and young-at-heart will love playing on this massive outdoor playground. The public park features towering slides and tunnels, a rope-climbing sphere, swings, and a 2,200 square-foot splash pad.
Biking and Picnicking at Historic Blakeley State Park (Spanish Fort)
The Historic Blakeley State Park in Spanish Fort offers a variety of outdoor activities set amid a backdrop of rich local history. With over 20 miles of biking and hiking trails, you can explore the park's stunning natural beauty, including majestic oak trees and riverfront views. Along the way, visit historic sites like original native american settlements and Civil War battlegrounds. Don't forget to pack a picnic and relax at one of the park's designated picnic areas!
Exploring the Eastern Shore Walking and Bike Trail (Fairhope, Daphne, and Spanish Fort)
Stretching over 24 miles, the Eastern Shore Trail is a remarkable walking and biking path that connects the cities of Fairhope, Daphne, and Spanish Fort. This multi-use trail, with both paved and natural segments, offers scenic views of Mobile Bay, lush forests and picturesque neighborhoods, making it a perfect choice for a relaxing stroll or an invigorating bike ride.
Don't let the thought of injury keep you from exploring our Eastern Shore paradise! Urgent Care of Fairhope offers expert injury care for everything from sprains and strains to bee stings, right in the heart of downtown. Add us to your contacts and check our current wait-times to receive convenient care close to home at a time that works for you–no appointment needed.