6 Ways to Have a Health(ish) Halloween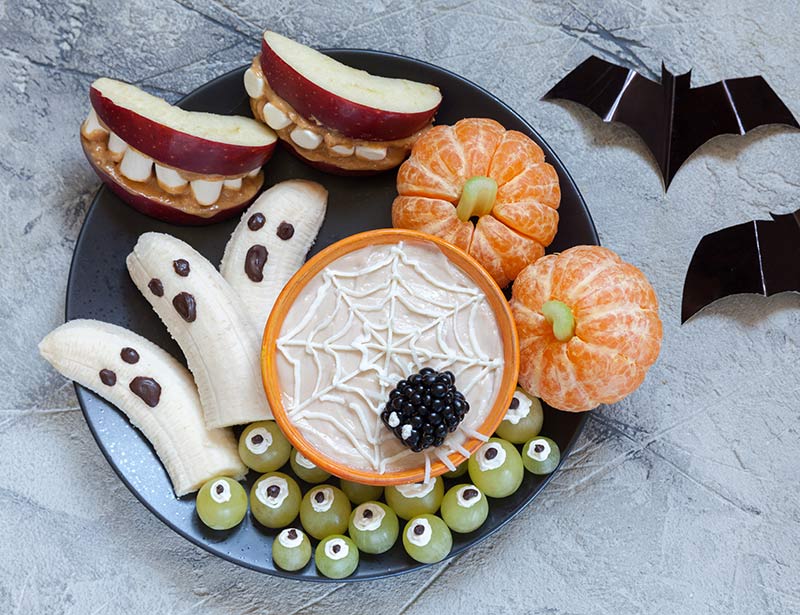 Halloween is supposed to be a spooktacular event, but ghosts and ghouls aren't the only health risk you may face during the frightful festivities. From food allergies to spooky strangers to a candy-fueled stomachache, there are so many ways your night – and your health – can veer off the rails. But with a few healthful tips, you and your family can enjoy a healthier holiday without sacrificing the magic of Halloween.
Eat a healthy meal.
You can help avoid a candy crisis by eating a healthy meal before you head out for trick-or-treating. If your tummies are full of good nutrition, you'll be less tempted to binge on sugary sweets. A meal packed with protein and fiber will deliver plenty of energy and keep your blood sugar stable, so focus on lean meats, fruits, and fresh veggies. You can even turn up the fun factor with holiday-themed goodies like banana ghosts or carrot witch fingers!
Park the pillowcase.
Avoid carrying a large treasure pail when you're trick-or-treating – that's just more room for candy. Instead, opt for a smaller bag and limit the kids to one or two pieces per stop. They'll come home with fewer treats, and you'll find it easier to handle the late-night haul.
Try the teal pumpkin.
If you didn't know, a teal pumpkin signifies non-edible treats. Homes that display them on their porch are a great place to stop if you have food allergies, a condition like diabetes or celiac disease, or just want some healthier Halloween prizes. You can even try joining the teal pumpkin project yourself! Common items the kids will love include glow sticks, temporary tattoos, stickers, novelty gifts, etc.
Get moving.
If the weather and location permit, try to move as much as possible during your Halloween fun. Turn the night into a family activity by walking from house to house or throw a zombie dance party before you start counting candy. Staying active can help you burn those extra Halloween calories and get your hearts racing, in a good way.
Try a trunk-or-treat.
Trunk-or-treats are a popular way to avoid the Halloween tricks. They're usually in areas that have plenty of lighting, and the closely-parked cars make walking with littles much easier than skirting the sidewalks. Local schools and churches are common places for trunk-or-treat fun.
Trade the excess treats.
Don't let piles of Halloween prizes turn into a weeks-long temptation. Avoid overbuying candy for visitors and set a limit on what each family member can reasonably keep. Make a plan to discard the rest in early November by donating it locally or saving it for a special occasion.
Halloween frights should be all in good fun. But if you do get in a health scare, the expert team at Urgent Care of Fairhope is here to help. From stomachaches to minor injuries, we can treat any tricks All Hallow's Eve may throw your way – without ever needing an appointment. That's service so good, it's scary!