How to Pack the Perfect (Healthy) School Lunch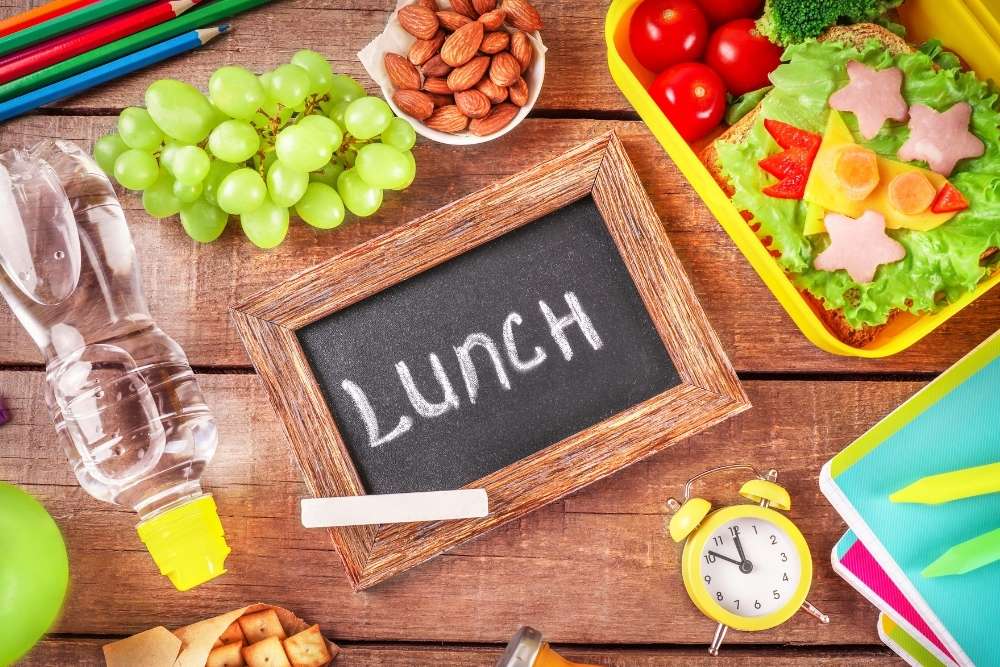 Packing a lunch for your school-bound student isn't always easy. Mornings can be hectic, kids can be picky, and it's often tempting to throw in sugar-laden snacks that you know your student will eat.
But lunchtime is critical for kids to refuel their brains and bodies. Eating a healthy and nutritious lunch can help student-aged kids learn, play, develop, and thrive better during school hours and beyond. Packing a variety of nutritious options is also a good opportunity to help your student develop healthy eating habits and a better relationship with food in general.
Dr. Cammy Beall of Urgent Care of Fairhope offers some tips to help you pack a school lunch you – and your kids – can feel good about.
Keep it balanced
Like adults, kids need a healthy balance of nutrition to thrive. Try to incorporate a good mix of nutritious choices from each major food group into every lunch you pack.
Fresh or frozen whole fruits contain vitamins, minerals, antioxidants, and other healthy nutrients. Sliced or whole strawberries, apples, bananas, oranges, blueberries, etc. are fast and easy choices. Avoid canned or prepackaged fruits, when possible, which are known to contain tons of added sugar.
If your kid is picky, try raw veggie sticks like carrots or celery with yummy dipping sauces to add some fun and flavor (just avoid full-fat or full-sugar dressings.) Cucumbers, broccoli, and grape tomatoes are also great additions.
Whole Grains. Whole-grain breads, pastas, tortillas, bagels, crackers, etc. are nutrient-dense and help keep your child full through the end of the day.
Healthy sources of protein include lean meats, eggs, beans, and nuts. Just be sure your school doesn't have a nut-free lunch policy.
Aim for reduced-fat options of milk, yogurt, and cheese to give your kids some much-needed calcium and Vitamin D.
The USDA's MyPlate method can help you visualize a healthy balance of foods from the five major food groups.
Make Healthy Swaps
You don't have to forgo all of your child's favorites – a few healthy swaps can help boost nutrition and keep their lunches familiar and tasty. Some of the top lunchtime swaps include:
Whole grains. Refined white grains are lacking in nutrients like fiber, vitamins, and minerals. Swap in 100% whole-grain breads, crackers, pastas, etc. to make their favorite sandwiches and snacks healthier.
PB & Fruit. Instead of loading up their PB&J with sugar-laden jelly, try using sliced strawberries or bananas on whole-grain bread or inside a whole-grain tortilla. Again, make sure your school doesn't have a nut-free policy.
Swap sugary juices and sodas for good, old-fashioned water. It will keep them hydrated, reduce their caloric intake, and help avoid a late-afternoon sugar crash.
Make It Fun
Turn lunchtime into a game with fun, kid-friendly food options. This will help your child look forward to lunchtime and keep them engaged throughout their meal.
Use cookie-cutters or stencils to turn sandwiches and snacks into fun shapes like hearts, dinosaurs, or stars.
Include dipping sauces to add flavor and fun to fruits and veggies.
Create DIY lunches by "deconstructing" foods and letting your kids put them back together. Popular favorites include DIY pizzas and homemade lunchables. 
Get them involved
Let your child participate in the entire lunch prep process, from planning their meals to grocery shopping to putting everything together. This will allow them to feel more in control while helping them develop good decision-making skills.
Talk with your kids about making healthier food choices. Make a list of healthy options from each of the five food groups and let them pick their favorites.
At the store, allow them to choose between one or two healthy options in each section. For example – would you like strawberries or bananas? Carrot sticks or cherry tomatoes?
Try to pack lunches the night before to allow your kids to pitch in. Even younger kids can help pack items into containers or remove the stems from softer fruits.